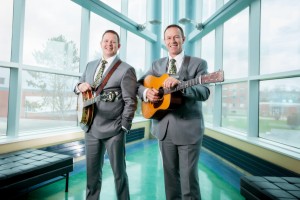 The Spinney Brothers, Canada's International Bluegrass band, are thrilled to announce their latest single, "My Music Comes from Bill," has reached #1 on the National Survey's Top 30 Songs Chart for September.
The Spinney Brothers could be considered by some to be an "overnight success" story even though they've been performing together for well over 20 years. With their latest three releases on Mountain Fever Records and an increased tour schedule that keeps them on the road over 200 days a year, the Canadian duo has catapulted into a whirlwind of notoriety and recognition by the bluegrass and acoustic music scene. Their 2012 release, Memories, garnered plenty of attention which helped to name the band as a final nominee for the International Bluegrass Music Association's Emerging Artist of the Year in 2013. And their previous release, No Borders, proved just that – there were no boundaries that could hold this highly entertaining band back! In fact, No Borders broke barriers for all international bands by reaching the #1 spot on the National (US) Bluegrass Survey's Top 15 Albums chart, holding tight for 2 months (January and February 2014), and garnered the band two more IBMA nominations; Emerging Artist and Song of the Year for "Grandpa's Way of Life." With their latest project, Tried & True, released in October 2014, The Spinney Brothers have enjoyed consistent chart success with the CD on the Top 15 Albums chart eight consecutive months and three tracks appearing on the Top 30 Songs chart including "My Music Comes from Bill" reaching #1 in September. Altogether, the band has now reached a career milestone with three #1 chart-toppers to their credit. 
The Spinney Brothers plan to return to the studio this winter to begin work on their fourth album for Mountain Fever Records, due for release in 2016. Until then, they continue to have a very busy touring schedule and will be performing at the following venues over the next few weeks:
September 3rd & 4th –  Fort Fairfield, ME
September 5th – Stewiake, NS, Canada
September 13th – Sackville, NB, Canada
September 23rd – Bean Blossom, IN
September 24th – Buena Vista, VA
September 25th – Manteo, NC
September 26th – Upperco, MD
September 27th – Canterbury, CT
For more information on The Spinney Brothers including a complete list of tour dates, visit www.SpinneyBrothers.com.