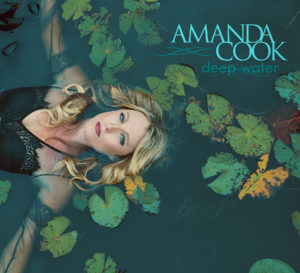 Mountain Fever Records will release a second single from the debut album from Amanda Cook to radio today. "Caleb Meyer" is the follow-up single to "No Rhyme Or Reason," both from Amanda's debut album, Deep Water, scheduled for release November 3rd. 
 
Jay, Florida's Amanda Cook acquired a love of bluegrass from her father who played banjo throughout her childhood. In early 2007, Amanda formed bluegrass group High Cotton with her father and received her first taste of performing, fueling a fire to continue on a professional level. In 2013, determined to create her own sound, Amanda stepped out on her own and released her first solo album One Stop Along the Road. The self-released album brought Amanda significant regional attention and furthered the desire to grow her brand, resulting in the addition of a full touring band. Amanda has created quite a loyal fan-base through her palpable delivery of  a soul-wrenching song. And her light-hearted, down-to-earth style helps her create an undeniably strong connection with her audience.
 
Written by the award-winning songwriting duo, Gillian Welch and David Rawlings, ("By The Mark," "Lowlands," "New Favorite"), "Caleb Meyer" is the second single from Amanda's debut album. While some may consider the song dark in subject matter, Amanda unapologetically shows creative clarity in the material she chooses. "This song has long been a favorite of mine," she says of 'Caleb Meyer.' "I especially love the building tension created in this arrangement. That, along with a chilling story is enough to give anyone goosebumps." 
"Caleb Meyer" is available to radio programmers who may download the song via 
AirplayDirect
 or by emailing 
radio@mountainfever.com
 for a digital download. Mountain Fever will release Amanda's debut album for the label, 
Deep Water
, November 3rd. For more information on Amanda Cook, please visit her at 
www.AmandaCookBluegrass.com
 and follow her on 
Facebook
. For more information on Mountain Fever Records, visit 
www.MountainFever.com
.   
Suggested Tweet
@MtnFeverRecords drops 2nd single from @BluegrassAmanda to Radio today – #CalebMeyer written by @gillianwelch & @TheDaveRawlings.  
Suggested Twitter Handles & Hashtags
@MtnFeverRecords
@BluegrassAmanda
#NewMusic
#CalebMeyer