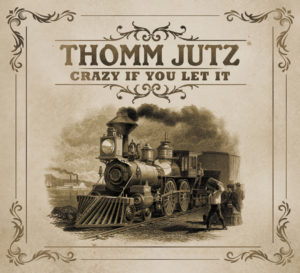 Mountain Fever Records is elated to announce the release of Crazy If You Let It, the new album from singer, songwriter, producer, and guitarist Thomm Jutz. The album has already received generous airplay on radio worldwide and is available to consumers everywhere today.
 
Jutz's debut album for Mountain Fever Records is a quintessential compilation of everything that makes him a well-rounded, endearing musician. His songs and the delivery of them are real and simple, yet poignant. "I've always been in love with bluegrass music," stated Jutz in a recent interview for Country Music People. "I obviously didn't grow up in that culture but it's the kind of music that's really dear to my heart and everything I've done always has a very strong acoustic vibe to it."
 
Sonically, Crazy If You Let It is pleasing to the ears. Emotionally, it's touching to the heart. From the opening title track to the emotive "It Was You," Jutz takes the listener on a journey that finds one closing their eyes and getting lost in each and every note along the way. Imagine a train ride through the country side and finding yourself visiting Georgia, North Carolina, and Ireland, with a jump back in time to the Old Testament alongside Jeremiah the Prophet. All is accomplished within the 12 track makeup of Crazy If You Let It. For this particular project, Jutz called on his dearest friends for support. And with friends such as Sierra Hull, Justin Moses, Andrea Zonn, Tammy Rogers, Mark Fain, Peter Cooper, and Eric Brace, Jutz couldn't possibly end up with anything other than a spectacular masterpiece of art in music form. 
 
Track Listing
1. Crazy If You Let It (with Andrea Zonn)
2. Crossing Over Black Mountain
3. Confederate Jasmine
4. Run With The Horses
5. White Water Train
6. Old Railroads (with Tammy Rogers)
7. Sometimes What Glitters Is Gold
8. The Coast Of Carolina
9. The Road To Galway
10. Lily Of The Day
11. Atlanta (Please Don't Let Me Down)
12. It Was You
 
Crazy If You Let It is available today to radio programmers via  AirplayDirect or by emailing radio@mountainfever.com for a digital download. Consumers may purchase the album through various music outlets.  For more information on Thomm Jutz, please visit www.thommjutz.com. For more information on Mountain Fever Records, visit www.MountainFever.com. 
About Thomm Jutz
It's difficult to speak about Thomm Jutz without coming across as a major name dropper. When you've written songs, played guitar, or produced records for so many well-known artists, that's just the way it is. Nanci Griffith, John Prine, Mac Wiseman, Balsam Range, Marty Stuart, Otis Gibbs: the list continues on. But as the recent Prine-delivered song says, "It ain't braggin' if you've done it," and Jutz has certainly done it all quite successfully. Bluegrass fans are already familiar with Jutz's music through the many hit songs he's written for other artists such as Balsam Range, Junior Sisk & Ramblers Choice, Irene Kelley, Terry Baucom and the Dukes of Drive, and many others. And though his songwriting success has been quite significant, his artistry as a singer, producer, and musician have served him equally as well as evidenced just this year with the four nominations he received from the International Bluegrass Music Association for Songwriter of the Year, Record