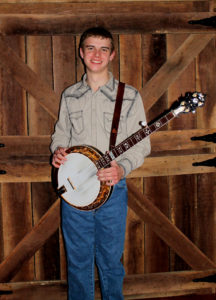 Michael Cleveland & Flamekeeper are proud to welcome Jasiah Shrode as their newest member effective immediately.
 
Jasiah Shrode was raised in a rural farming community near Plato, Missouri. He developed an interest in music at a young age and began learning to play several instruments at age 11. Although he's quite proficient on guitar and mandolin, banjo has been his first love. Since 2009, he has been a member of Jim Orchard and the Boys, a favorite in the Missouri region. Shrode cites his greatest musical influences as Jim Orchard, Aaron McDarris, Haskell McCormick, Ferrell Stowe, Earl Scruggs, Don Reno, and Sonny Osborne. 
 
Shrode replaces former Flamekeeper member, Cody Looper, who has taken a full-time job to be at home more with his family. Shrode made his official stage debut with Flamekeeper during WAMU's Bluegrass Country Benefit Concert last weekend, performing to a packed house of avid bluegrass fans. 
 
"We've had some incredible banjo players in the band over the past 10 years so there are definitely some big shoes to fill when you audition for Flamekeeper," says Michael Cleveland. "Jasiah has had to learn a tremendous amount of material in a very short time, as well as several styles of banjo playing that were new to him. He has exceeded our expectations, has an incredible ear, and his banjo roll is solid as a rock at any speed. Watch out for this guy! I guarantee that you will be hearing his name more and more in the world of banjo and we're thrilled to have him as the newest member of Flamekeeper!" 
 
For more information on Michael Cleveland & Flamekeeper, please visit www.flamekeeperband.com.