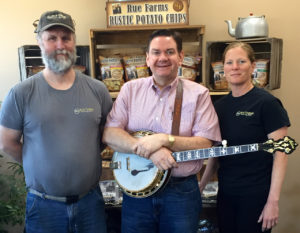 JOE MULLINS & THE RADIO RAMBLERS INK SPONSORSHIP AGREEMENT WITH RUE FARMS RUSTIC POTATO CHIPS™
Rue Is On The Road With The Ramblers This Year!
The award-winning bluegrass group Joe Mullins & The Radio Ramblers (JMRR) hit the road this month with a new national sponsor, Rue Farms Rustic Potato Chips™. Mullins has been a spokesman for the products on Classic Country Radio, his network of five southwest Ohio radio stations, since 2015. Rue Farms Rustic Potato Chips™ is also a presenting sponsor of the Southern Ohio Indoor Music Festival, JMRR and Classic Country Radio's biannual bluegrass festival occurring each March and November. 
Bluegrass and classic country music fans have embraced Rue Farms Rustic Potato Chips™ and in a few weeks the snacks will be available nationwide in over 1,400 Big Lots stores throughout 47 states. This development postures the company for an exciting partnership with JMRR. The band will be singing a catchy, signature Rue Farms Rustic Potato Chips™ jingle at their live performances and distributing snack samples at their merchandise table for the remainder of 2017.
An Ohio-based, Veteran-owned snack producer, Rue Farms Rustic Potato Chips™ has a commitment to quality and an appreciation for farm fresh. Sliced just a bit thicker than your average chip, Russet potatoes are gently kettle cooked using non-genetically modified oils and seasoned with their own custom blend of gluten-free herbs and spices without additives and preservatives. The chips are also nut-free, soy-free, dairy-free, and vegan. Owners Matt and Jeanne Rue have worked diligently for over four years developing their unique, healthy snacks now available in six flavors: Sea Salt; Salt & Pepper; Dill Herb; Pink Himalayan Salt; Salt & Cider Vinegar; and Back Woods BBQ. Currently, the chips are available for sale at their retail location in Springfield, Ohio, and at hundreds of select retailers throughout Ohio, Kentucky, and West Virginia. Customers can also order online at www.RueFarms.com.
"Rue Farms Rustic Potato Chips™ is honored to sponsor Joe Mullins & The Radio Ramblers," said Jeanne Rue. "What better combination could we possibly have asked for? We are big fans of the Ramblers and in turn, Joe and the boys are a huge support for Rue Farms™. We can't express enough our sincere gratitude for their belief in us and for the success of our potato chip adventure! Joe has done wonders for us on the air at Classic Country Radio and now the show is going to go on the road with Joe Mullins & The Radio Ramblers. It is a natural fit, just like tater chips and dip."
JMRR will also perform a special concert on Saturday, August 19, at the Rue Farms Rustic Potato Chips™ headquarters in Springfield, Ohio, to celebrate the company's expansion and the release of the band's latest CD due to be released on Rebel Records in August.
"Bluegrass musicians and discerning fans always place emphasis on quality, hard work, and genuineness," states bandleader Joe Mullins. "I've been acquainted with Matt and Jeanne Rue the past few years and they are our kind of folks. Their hard work and dedication in producing tasty, healthy potato chips is truly inspiring. Rue Farms Rustic Potato Chips™ has become a delicious sensation in Ohio and I'm grateful for the opportunity to introduce them to our friends everywhere."
Look for Rue on the road with the Ramblers this year and stay tuned for more details about their national Big Lots availability soon. Follow and like JMRR on Facebook for an opportunity to try Rue Farms Rustic Potato Chips™ each week the band is on the road. For more information, visit www.RadioRamblers.com and www.RueFarms.com.