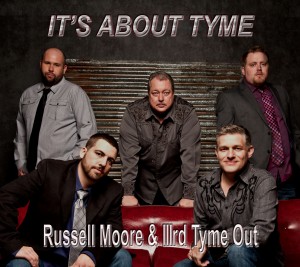 "Unsurprisingly, it's brilliant!" – John Lawless, Bluegrass Today 
"If you are looking for an album which will both satisfy lifelong fans of the genre and convert new listeners into bluegrass believers, your search is over — 
It's About Tyme is for you." – Daniel Mullins, Classic Country Radi0
The highly anticipated album from one of bluegrass music's most respected bands, Russell Moore & IIIrd Tyme Out, is available TODAY! It's About Tyme, featuring Russell Moore (guitar), Wayne Benson (mandolin), Justen Haynes (fiddle), Keith McKinnon (banjo) and Blake Johnson (bass), provides music fans with an unprecedented listening experience from start to finish!
 
With the first note of music and the unmistakeable tenor voice of IBMA's most awarded male vocalist, It's About Tyme kicks off into super-high gear with the Moore-penned, ode to his Texas roots, "I'm Leaving You And Fort Worth Too." By the time the super-charged song is over, listeners will be firmly in the palm of IIIrd Tyme Out's very capable, musical hands and will most assuredly be ready for the next 43 minutes of music. In addition to Moore, Wayne Benson brings forth a fan-favorite instrumental that he composed several years ago, "Spindale." Additional and notable song contributions were made by Kevin McKinnon and Eli Johnston ("Had It Not Been For The Train"), Mark Brinkman and Becky Buller ("Cotton Town"), Milan Miller ("Poison Cove"), David Norris ("Sweet Mountain Rose"), Josh Miller ("Enough For You"), and the hit first single from the project written by Kyle Burnett ("Brown County Red"). In true classic style, IIIrd Tyme Out mixes old with the new, bringing a fresh approach to long-forgotten gems such as the Nitty Gritty Dirt Band's "Lowlands," the Keith Whitley and Fred Koller penned "I Think I Want My Rib Back," Mickey Newbury's "Makes Me Wonder If I Ever Said Goodbye," A.P. Carter's "Are You Tired of Me My Darling," and a true highlight track, "River Bottom," originally recorded in bluegrass by The Country Gentlemen. And just when you think the IBMA's seven-time vocal group of the year can't possibly offer anymore, they surprise the listener with an a cappella version of Sam Cooke's Mo-Town classic, "You Send Me," a performance that is sure to make fans swoon. The album closes with "Brown County Red," the band's first single from the project that held tight to the #1 spot onBluegrass Today's Top 20 Monthly Songs chart for three consecutive months.
It's About Tyme is now available to consumers and can be purchased via iTunes, the band'swebsite, and wherever great music is sold. For more information on Russell Moore & IIIrd Tyme Out and their new album, It's About Tyme, please visit www.iiirdtymeout.com.