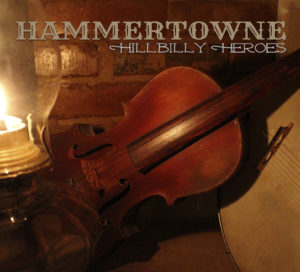 Mountain Fever Records is excited to announce the release of Hillbilly Heroes from Hammertowne. The band's third album for Mountain Fever is also available wherever great music is sold beginning today!
 
Fans of Hammertowne have come to expect a certain amount of tradition with their bluegrass and the band never disappoints. Each member of the group has their musical and personal roots planted firmly in none other than Kentucky, an area of the country known for good-hearted, honest people who are serious about their families, work, tradition, and bluegrass music. With Hillbilly Heroes, Hammertowne pays their respect not only to their musical lineage, but also to their ancestors' way of life touching on subjects of coal-mining, moonshining, family, and love. Pulled together, the project is a beautiful representation of the heart and soul of the "bluegrass state."
 
Hammertowne presents something very unique in today's current lineup of talent—four very strong lead vocalists in one single ensemble. The album kicks off with a punch on "Don't Ever Cross A Moonshine Man," sung with great conviction by Bryan Russellwho sings four of the 12 cuts and also plays bass for the band. Scott Tacket also delivers lead vocals on four songs including the title track – an effective tribute to the forefathers of bluegrass capped off with a driving reprise of "Randy Lynn Rag" written by Earl Scruggs and delivered to perfection here by Hammertowne's banjoist, Brent Pack. The hit songwriter of the group (he penned half the cuts on this album), Dave Carroll, delivers smooth-as-glass vocals on two tracks including "Scorcher Carroll's Farm" while holding down the rhythm with his solid guitar playing. Rounding out the album and the band is mandolinist Chaston Carroll who absolutely delights with his picking, and also sings lead on one track. The band is an all-encompassing package of bluegrass perfection on their own but they took it a step further on Hillbilly Heroes and brought in the additional talents of Gaven Largent on Dobro and Ron Stewart on Fiddle. Hillbilly Heroes is a must-have album of bluegrass music delivered with grit and drive from people who have lived and breathed it their entire lives. 
 
Radio programmers may download Hillbilly Heroes via AirPlay Direct or request a digital download by emailing  radio@mountainfever.com. Consumers may order the album now through multiple avenues including iTunes, Google Play, and Amazon. For more information on Hammertowne, visit www.HammertowneBand.com. For more on Mountain Fever Records, visit www.mountainfever.com.