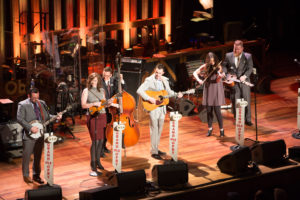 Five-Time IBMA Award-Winning Band To Release
Label Debut in Early 2019
Acclaimed bluegrass sextet Flatt Lonesome has signed with Rounder Records. In making the announcement, Rounder co-founder Ken Irwin said, "All of us at Rounder are thrilled to be working with Flatt Lonesome, one of the most charismatic and creative young groups around. They have made an original mark in bluegrass today, are rising stars of their generation, and bring their own vision to the bluegrass world and beyond."
The group responded, "To say that we are excited about this partnership would be an understatement!  Since day one we've had a list of goals we wanted to achieve and 'signing with Rounder' was at the very top of that list." They continue, "Becoming label mates with some of our heroes is a dream come true and we're honored to say the least. We are all looking forward to the next chapter with Rounder!"
Since the band's 2013 debut, Flatt Lonesome — Kelsi Robertson Harrigill (mandolin/vocals), Buddy Robertson (guitar/vocals), Charli Robertson (fiddle/vocals), Paul Harrigill (banjo), Dominic Illingworth (bass), and Michael Stockton (Dobro) – – has amassed an impressive array of honors from the International Bluegrass Music Association, Society for the Preservation of Bluegrass Music in America, and the Dove Awards.
Their captivating live show has made them a favorite on the festival circuit and at the Grand Ole Opry, where they've performed more than two dozen times since they made their Opry debut in 2015.
Flatt Lonesome plans to go into the studio later this year to record their new album, which will be released in 2019. For a full list of appearances, please go to 
www.flattlonesome.com
.
Photo courtesy Grand Ole Opry, LLC
Photo By: Chris Hollo