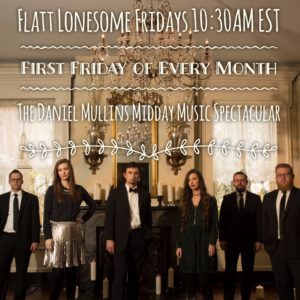 The International Bluegrass Music Association's two-time Vocal Group of the Year, Flatt Lonesome will be regular guest hosts on a new feature titled Flatt Lonesome Friday on Classic Country Radio with Daniel Mullins beginning this week. 
 
On the first Friday of every month, Classic Country Radio will have a member of Flatt Lonesome as a co-host of the Daniel Mullins Midday Music Spectacular from 10:30-11:00am ET. Charli Robertson will kicks things off on Friday, October 6th, hand-picking some of her favorite songs to feature on the air and share some inside scoop on the band's new album, Silence In These Walls, plus stories from the road. 
 

Flatt Lonesome Friday with Daniel Mullins can be heard on Classic Country Radio worldwide via the station website at www.myclassiccountry.com or their app for iPhone and Android users.
 
Scheduled Air Dates:
October 6 – Charli Robertson
November 3 – Buddy Robertson
December 1 – Michael Stockton
January 5 – Dominic Illingworth
February 2 – Kelsi Harrigill
March 2 – Paul Harrigill
 
For more information on Flatt Lonesome and their new album, Silence In These Walls visit www.flattlonesome.com.