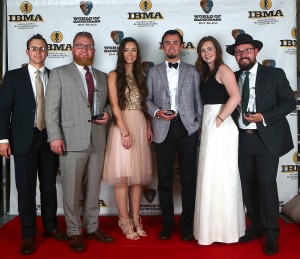 Flatt Lonesome Claims Three International Bluegrass Music Association Awards
Flatt Lonesome claimed three International Bluegrass Music Association (IBMA) Awards on Thursday, September 29th during the association's annual conference held in Raleigh, North Carolina. In addition to being named IBMA's 2016 Vocal Group of the Year, the band also won Album of the Year for Runaway Train (Mountain Home Music Company) and Song of the Year for "You're The One" written by country artist, Dwight Yoakum. 
The band, who was visibly overcome with emotion upon each win, thanked their parents for teaching them how to sing. Charli Robertson stated "We wouldn't be Vocal Group of the Year without them." Twin brother Buddy followed by saying, "I've spent a lot of hours picking in the house with Dad growing up, and if it weren't for him, I wouldn't be who I am today." Upon winning Album of the Year for Runaway Train, older sister, Kelsi Harrigill said, "This is our first album to have the majority of material to be all original and that is a huge deal to us. We want to pay tribute to those who came before us but we also want to show people what's in our hearts, which includes the three gospel songs that are on this album." Also during the IBMA Awards program, the band performed their hit Gospel song from the record, "In The Heat Of The Fire." 
 
Throughout the IBMA's World of Bluegrass Conference, Flatt Lonesome made several public appearances including Mountain Home Music Company's showcase, The Bluegrass Situation's Hangin' and Sangin', Bristol Radio Sessions, several workshops and panels, and a performance for the Wide Open Bluegrass Festival. 
 
Flatt Lonesome will continue a rigorous touring schedule upon returning home that includes performances this month at the Tennessee Fall Homecoming in Norris, the Grand Ole Opry, Bluegrass Underground and a Bluegrass Cruise. 
 
For more information on Flatt Lonesome including a complete list of upcoming performances, please visit www.FlattLonesome.com.