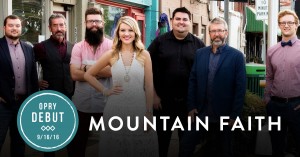 Mountain Faith Makes Grand Ole Opry Debut and Announces New Music
Mountain Fever Records is proud to announce Mountain Faith will be making their Grand Ole Opry debut on Friday, September 16th. Additionally, the band will no doubt be performing their soon-to-be-released single, "Freedom, Family, and Faith," avaialble everywhere September 30th.
North Carolina's Mountain Faith is Summer McMahan on fiddle and lead vocals, her brother Brayden on banjo, their dad Sam, on bass, with Nick Dauphinais on guitar, Cory Piatt on mandolin, Chris Wright on drums, and Mickey McMahan on keyboard. Although the band has been performing together since 2000, it's only been in the last few years that the music industry has begun taking note of the talented ensemble. While bluegrass fans may have been on the Mountain Faith "bandwagon" for a few years now, the rest of the country began taking notice of the family band through regular appearances as contestants on NBC television's popular show, America's Got Talent, making it through to the semi-finals in New York City just last year. This year, the band is an International Bluegrass Music Association Award nominee for Emerging Artist of the Year and are gearing up to release their third album for Mountain Fever Records. 
 
The album's first single, "Freedom, Family, and Faith," will be released September 30th. Here's a sneak peek:
 

 
Catch Mountain Faith's Grand Ole Opry debut on Friday, September 16th. To purchase tickets, visit www.Opry.com or listen in at www.wsmonline.com or WSM 650AM.  For more information on Mountain Faith and their new single "Freedom, Faith, and Family," please visit www.MountainFaithBand.com and www.MountainFever.com.