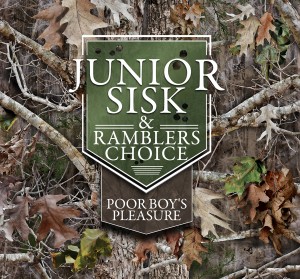 Mountain Fever Records – Poor Boy's Pleasure, the New Album from Junior Sisk & Ramblers Choice, is Available This Friday!
Mountain Fever Records is proud to announce the release of new music by Junior Sisk & Ramblers Choice. Poor Boy's Pleasure will be available everywhere great music is sold beginning Friday, May 27th.
When looking for modern-day, traditional bluegrass at its finest, it's quite likely one can end their search when they happen upon Junior Sisk & Ramblers Choice. Sisk cut his teeth on the legends of traditional bluegrass and proudly carries the torch of his predecessors to festivals, music halls and concert venues across the country every time his band of energetic and like-minded musicians hit the stage. The group enjoyed a long overdue nod of approval when the International Bluegrass Music Association awarded the group with Song and Album of the Year in 2012 and named Sisk their Male Vocalist of the Year in 2013. As Ken Oliver of Country Standard Time said, "Sisk… imparts personality and emotion into every song in ways that mirror the greats of country music such as Haggard or Jones."
Supported by Ramblers Choice which includes Jason Davis on banjo; Jamie Harper on fiddle; Johnathan Dillon on mandolin; former bass player Kameron Keller; and special guest Aaron Ramsey on guitar, Poor Boy's Pleasure, the band's debut album for Mountain Fever Records, is 12-tracks-strong of everything that creates the makeup of Junior Sisk; tradition, hunting, loving, country, and God!
Track Listing:
                 1. Lonnie Ray
                 2. Longneck Blues
                 3. Hang A Wreath
                 4. Land On Our Feet
                 5. In This World But Not Of It
                 6. Jimmy, JD, & Paul
                 7. Walking In The Blue Ridge
                 8. I Watched You Go
                 9. Poor Boy's Pleasure
                 10. Cold In Carolina
                 11. What About Me Lord
                 12. Ain't Gonna Work Tomorrow
Junior Sisk & Ramblers Choice will celebrate the official release of 
Poor Boy's Pleasure
 at the 
Chantilly Farm Bluegrass & BBQ Festival
 this weekend, May 27th and 28th. Founded in 2011, Chantilly Farm has evolved into one of Southwest Virginia's premiere venues for camping and special events. With acres of grassy fields, woodlands, and abundant wildlife, the venue provides the perfect backdrop for gatherings both large and small! Sisk teamed up with festival producers last year as the official host band for the annual event.  For more about the Chantilly Farm Bluegrass & BBQ Festival, visit 
www.chantillyfarm.com
. For more on Junior Sisk & Ramblers Choice, visit 
www.juniorsisk.us
. For more about Mountain Fever Records, visit 
www.mountainfever.com
.