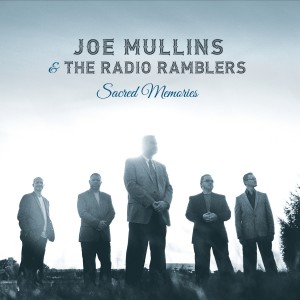 Rebel Records Releases New Single from Joe Mullins & the Radio Ramblers – "All Dressed Up" – Available Today!
All Gospel Album – Sacred Memories – Releases April 15th
Joe Mullins & The Radio Ramblers are pleased to announce their newest single, "All Dressed Up" is being released worldwide today and is available for digital download via 
AirplayDirect
 for radio programmers. "All Dressed Up" is the first single from the band's upcoming gospel album on Rebel Records, 
Sacred Memories
, set for release on April 15th. Consumers may purchase the single via 
iTunes
and 
Amazon
, and may also receive it as a free download upon preorder of the entire album.  
Featuring the great vocal combination of Duane Sparks, Joe Mullins and Mike Terry, "All Dressed Up" tells the touching story of an old farmer who spent his life working hard in his overalls with the love of a good woman by his side. In this scenario though, he's packed a local church on the day of his funeral, and as his friends pass by to pay their last respects, they find him 'all dressed up' with somewhere to go – ready to meet his beloved wife and his Savior. 
"The moment we finished 'All Dressed Up' I knew EXACTLY who I wanted to record it," says Jerry Salley. "As a songwriter (and fan) I have been hoping to have a song recorded by Joe Mullins and the Radio Ramblers for a long time and with their history of recording meaningful songs, I thought 'All Dressed Up' was a perfect song to send Joe. Thankfully, he loved it and I couldn't be more excited. Joe and the Ramblers made the song their own, like it was written for them, and their recording is absolutely wonderful. They are at the top of their game and there's nothing more gratifying to a songwriter than to have a song recorded with such great vision and care by one of their very favorite groups in the business. I am very grateful to them!" 
"When Jerry Salley called me and said, 'I have a song I just finished for the Radio Ramblers,' I knew we would have an opportunity for a hit," says Joe Mullins. "Jerry loves our message songs that tell a story from the heart and he has written one of the best!"
"All Dressed Up" is available to radio programmers via 
AirplayDirect
 and to consumers for digital download at 
iTunes
 and 
Amazon
. Consumers who pre-order 
Sacred Memories
, the complete album due for release April 15th, will receive an instant digital download of "All Dressed Up" free. In addition, preorders for the album are being offered at a reduced rate of $7.99 through March 14th.  For more information on 
Sacred Memories
, please enjoy this 
promotional video
.